The Municipality of Anchorage's Public Works Department is pleased to release a public review DRAFT of the Design Study Report (DSR) for the West Dimond Boulevard corridor in west Anchorage. The upgrade project began in 2005 with problem identification through extensive community input from a Citizen's Advisory Committee (CAC), the Sand Lake Community Council, area homeowner's associations, user groups, agencies and local and state officials.The DRAFT Design Study Report documents the alternatives development and evaluation phase including screening all possible solutions to recommend alternatives to go forward to the next phase, preliminary design.
A public open house is scheduled for Wednesday, August 28, 2013 at Dimond High School Multi-Purpose Room from 5:30 PM to 8 PM to provide an opportunity for the community to review, comment and ask questions of the Municipal Project Managers and consultant design team. To download a copy of the West Dimond Blvd DRAFT DSR, please click on this link:
West_Dimond_Blvd_Draft_DSR_Text(6MB)
DSR Appendices:
Design Study Report Summary
The Municipality of Anchorage (MOA) is proposing to upgrade West Dimond Boulevard from Jodhpur Street to Sand Lake Road.  West Dimond Boulevard within the project area is a two-lane, east-west collector without shoulders, curbs or pedestrian amenities.The project's primary objectives are to:
Provide pedestrian and bicycle amenities within the project corridor;
Improve safety by improving horizontal and vertical geometry; separating vehicles from pedestrians and bicyclists; and calming traffic.
Upgrade the roadway and intersections to current municipal road standards;
Upgrade a public facility which has adequate capacity for the future growth and development of the area for the next 20-30 years;
Provide major intersections that will operate at adequate service levels in the future; and
Reduce long-term road maintenance by providing greater durability to the road surface.
Recommended improvements along the corridor include:
Reconstruction of the roadway surface and structural section with asphalt pavement, including shoulders to curb and gutter, with separated pathways on each side of the roadway;
Roadway drainage will be collected along the curb and gutter and conveyed through catch basins and storm drain pipes to low spots, matching the existing drainage patterns.
A continuous roadway lighting system, using Light Emitting Diode (LED) technology;
Landscaping which will focus on preserving the natural, rural character of the roadway.  The roundabout center islands will provide an opportunity for a gateway into the neighborhood; and
Modern single-lane roundabouts at both the Sand Lake Road and Westpark Drive intersections.
Recommended Alternatives Typical Sections (click images to enlarge):
Jodhpur Street: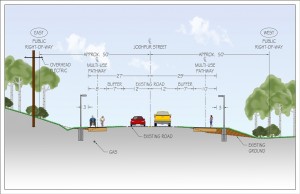 West Dimond Blvd – Jodhpur Street to Westpark Drive Section: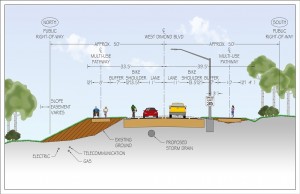 West Dimond Blvd – Westpark Drive to Sand Lake Road Section: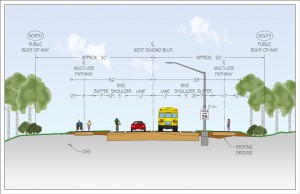 Westpark Drive Intersection: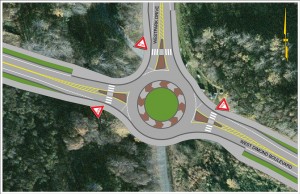 Sand Lake Road Intersection: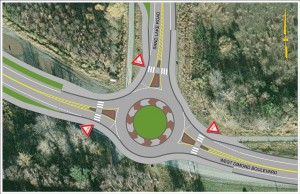 Cost Estimate
| | | | | |
| --- | --- | --- | --- | --- |
| DESCRIPTION | | ITEM | CALCULATION | ESTIMATED   COST |
| Construction | | A | | $8,400,000 |
| Utility Relocation | | B | | $650,000 |
| Right-of-Way Acquisition | | C | | $500,000 |
| Subtotal | | D | A+B+C | $9,550,000 |
| Construction Engineering | | E | 20% of D | $1,910,000 |
| Contingency | | F | 30% of D | $2,865,000 |
| Total   (rounded) | | G | D+E+F | $14,400,000 |
We're here to answer your questions! Please contact Van Le, Public Involvement Coordinator at comments@rmconsult.com or call 646-9659. Comments can also be submitted through this website in the Comment icon at the top of the page, on the Contacts page or using this W Dimond Mail Comment Form Web (PDF). You can type in comments and email or print out, fill out, fold and fax or mail to us.