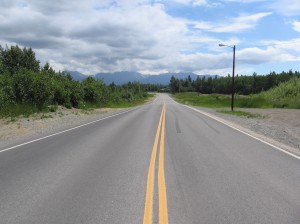 According to the design documents entitled Territory of Alaska – Alaska Highway and Public Works Department, Highway Division, Project No. 5202(1), the corridor was constructed in 1958, and was originally named Kincaid Road.  The roadway was subsequently paved in the mid-1960s and served a former Nike military ground-to-air missile site and borough car dump that became parkland in 1978.  Jodhpur Road, the western terminus of the project, forms the eastern boundary of Kincaid Park.  Since that time, Kincaid Park has transformed into 1,400 acres of rolling, forested hills and beautiful scenery that is now a major recreational destination for thousands of residents and visitors each year.
Existing Conditions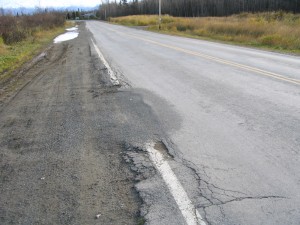 The existing roadway is generally contained within a 100' right-of-way and consists of two 12-foot wide lanes with 2-foot wide gravel shoulders.  Built on rolling terrain, several crest vertical curves appear deficient in terms of sight distance.  No pedestrian facilities exist within the corridor.  Drainage along the corridor is provided by roadside swales along the majority of the alignment.  No storm drain or public water and sanitary sewer systems exist along the project corridor.  Overhead telephone and electric lines exist throughout the project and support mounted streetlights at intermittent locations on the south side of West Dimond Boulevard.
Proposed Improvements
The Municipality of Anchorage (MOA) is upgrading West Dimond Boulevard. Phase I, from Westpark Drive to Sand Lake Road, will improve the drainage, pavement, intersection operations, and safety of pedestrians, bicyclists and drivers through non-motorized facilities and lighting.  On December 10, 2014 the Urban Design Commission approved the 65% design plans and the project is now moving to 95% design.  Funding  for design, easement acquisition, utility relocation and construction is provided by a  $7.5 million state grant
Key Project Features
Reconstruction of roadway surface and subsurface;
Addition of shoulders with curb and gutter, new catch basins and storm drainage;
Addition of 5-foot bike lanes;
New multi-use pathways; 10-foot on north side and 8-foot on south side;
New continuous lighting;
Single-lane roundabouts at Westpark Drive and Sand Lake Road; and
Additional landscaping along pathways.
The Urban Design Commission approved the 65% design in December and the project is now moving to finalize 95% design plans.  Construction is anticipated to start Summer 2015.